Why They Exist

First, it is important to note that there are two "types" of Official DeviantArt Contests.

#1 - contests completely run by DeviantArt
#2 - contests sponsored by outside companies

It's important to note that the contests run completely by DeviantArt have always been inclusive of all deviants regardless of geographic location, so everything after this point is in regards to type #2 - the contests sponsored by outside companies.

Throughout the year, our advertising group works very hard to try and bring a variety of creative, fun, exciting contests to DeviantArt via a number of big brand advertisers. While we try very diligently to encourage as many International contests as possible, the brand advertiser has final say and for a variety of reasons may opt for US only for reasons usually related to the advertiser's budget. Even though the brand or product, such as movie, appears international because it is available internationally, the part of the organization controlling the brand that is paying for the contest may be the U.S. based division of a larger company or only have rights to market in the U.S.

Some of you may say, "But we are an international community and it makes no sense to run these US-only contests!!!" and we appreciate that feeling. But, truth be told, turning down US-only contests does not help us bring more International contest opportunities to the site. Some brand advertisers consider running a smaller focused US-only contest to "test the waters", and should we perform well it may mean being able to run an international contest in the future. Also, every brand advertiser contest helps to build our portfolio which helps us prove to companies that the DeviantArt community is THE place to bring their awesome contest!!!

What We're Doing

So what are we doing to improve the situation? We're building an awesome portfolio of previously run contests, the team is working very hard to bring as many international contests as possible, and we've improved communication to save the international deviant from frustration! How you say?

There is a "US Only" notation in the top right of the contest article (see mockup below)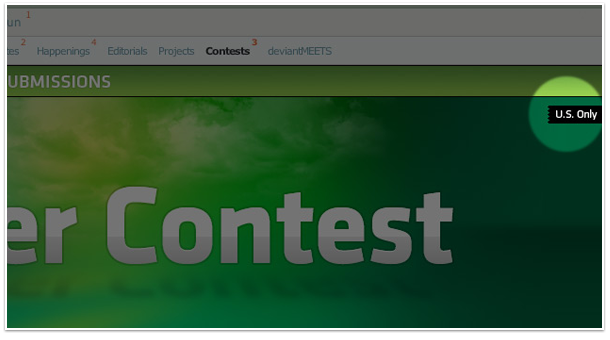 Also, the the Community Relations Contest page will show :flagus: beside anything that is US Only.

And last, but not least, we will continue to bring an array of DeviantArt, fully fun, open to everyone contests!