You can change your username by visiting the "Change Username" section of your Settings.

Please note:
To change your username, you must have an active Core Membership.
You cannot change back to your old username.
You may only change your username once every six months.
All visitors to your old username URL will automatically be taken to your new username URL.
What Happens When You Change Usernames

Once you change your username, you will be logged out and asked to login again using your new username and existing password.

Everything will be transferred
Your deviations (artwork), favourites, watchers, messages, stats, settings, etc., will all be transferred to the new username. The only thing that doesn't transfer are the places where people mentioned your old username in comments, journals, artwork descriptions, etc. However, those links will redirect to your new username.

Your watchers will be notified
Your watchers will get a notification in their Message Center informing them that you have changed your username. Also, "(formerly [username])" will display on your new username's Profile Page and next to your username for one month. This notice will always display (even after the one month) if someone visits your old profile and is redirected to the new one.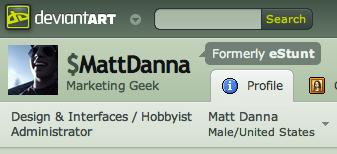 Further Details


More details about username changes:
Username changes are available to anyone with an active Core Membership -- whether you bought it yourself or it was gifted to you.
You cannot change your username to one that is taken even if you are the owner of both. You cannot claim a deactivated account.
No one will be able to claim your old username.
You can simply change the capitalization of your username.
Group username changes are not supported at this time.
Core Membership purchases cannot be refunded once you have changed your username.
DeviantArt administrators cannot change a username for you upon request.


For additional information, read our announcement about username changes.