Comments cannot be deleted, however each user has the ability to Hide comments left on any of their personal areas only. If you have wish to hide a comment that is not on a page connected to your account please contact the user who's page it is on and request they hide it for you.

To hide a comment you will need to visit the comment you wish to hide and click on the edit pencil icon (as highlighted in the image below), located to the far right of the posting time stamp. Once clicked, a dropdown menu will appear, you will then need to select the "Hide Comment" option from the list provided. By clicking this option the comment in question will collapse, leaving only a place keeping box in its place, which will allow you as the owner of the page to un-hide the comment if you like in the future.

Hiding: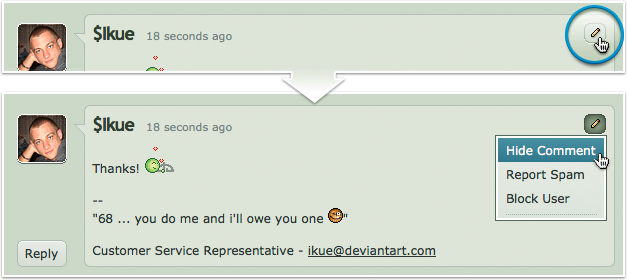 Un-Hiding:



We recommend you use this tool to settle minor issues which do not require administrative action.

If you feel someone is truly harassing or threatening you please report it to the Help Desk.

DeviantArt administrators will have the option to reveal and read comments which are hidden and do have the option to lock comments anywhere on site into the hidden, collapsed state and this procedure will be performed on selected comments where the staff judges it necessary.